10 Classy Hotels Across the World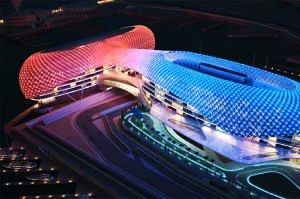 Here is a list of 10 of the greatest specimens of modern architectural designs in the new hotel wonders that would surely immortalize their designers. Each of these hotels are exceptionally unique in their built and design. These amazing hotels will definitely inspire to get-away and spend a few days at these modern marvels.
1. Yas Viceroy Hotel, Abu Dhabi, United Arab Emirates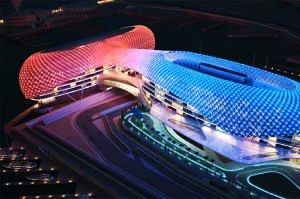 Opened in 2009, Its unique structure features a straddling F1 racetrack. It has a total 499 rooms and is twin towered structure with 12 stories each. The towers are linked by a massive veil-like curvilinear structure which is made of glass and steel at 700 feet high. This grand veil is made up of 5800 diamond shaped glass panels pivoted. They are lit up at night with an LED system and in the morning reflect the beautiful Middle Eastern Sky. The room tariffs start from USD 210 per night.
2. Bella Sky Comwell, Copenhagen, Denmark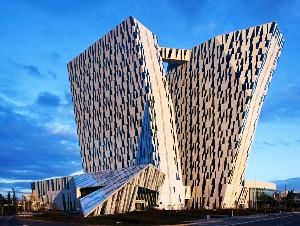 Opened: May 16, 2011 The unique feature of the two structure that constitute the Bella Sky is the fact that they are both inclined at a slightly off angle. In fact the entire design uses angular creations in a unique style with sheer brilliance. In the interiors, which features more than 200 rooms not a single one of them have any 90 degree corners. In fact all the rooms within this hotel are of unique shapes and completely different from one another. The exterior uses angles to project a filigreed appearance. The leaning design of the structures is due to the fact that the neighborhood where the Bella Sky is located is very close to the airport and so there are restrictions with the building heights so that they are not more 246 feet. It is located 5 miles from the city center of Copenhagen at Orestad.
3. Hotel Consolacion, Teruel, Spain
This cubical designed hotel is located at the top of a ridge within the mountains. It comprises of 10 freestanding cubes or 'Kubes' as they are called by the designers. It has a converted 14th century structure within the premises that serves as a communal area for entertaining guests. The interiors are decorated with copper treated pine, metal and slate sheeting. The rooms are available for a starting tariff of USD 185 per night.
4. Jumeirah at Etihad Towers Hotel, Abu Dhabi, UAE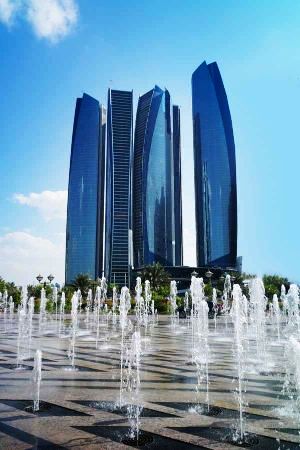 The architect behind this beautiful creation from Queensland bagged the World's Leading New Hotel Award for 2011. This is a residential and retail center which is worth USD 1 Billion, opened in 2011. This structure comprises of 5 beach side towers - three residential towers, one office tower, and the Jumeirah at Etihad Towers hotel, at the peninsular region of Abu Dhabi which offer breathtaking views of the ocean. One of the towers within this grand hotel is 66 stories high and comprises a total of 382 rooms including all of the towers.
5. Axis Viana Hotel, Viana do Castelo, Portugal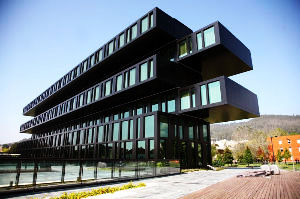 This 88 roomed amazing building is located at the charming village of Viana do Castelo in Portugal. The exteriors of this structure is made up of aluminium, green stone and black glass that gives a unique look to this building. This hotel was recently opened in 2008 and the cantilevered design of the structure can change according the viewer's vantage position.
6. Southern ocean lodge, Kangaroo Island, Australia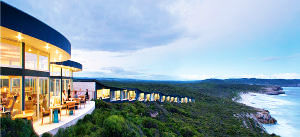 This lodge was designed by the famed architect Max Pritchard and is made to blend perfectly with the surroundings of the exotic Kangaroo Islands. The unique feature of this building is that it is made from lightweight materials like iron cladding, timber framing and steel screw piles.
7. Marina Bay Sands, Singapore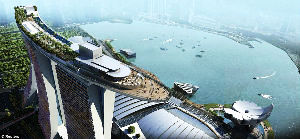 The 55 storey structures, opened in April 2010, are trio of massive buildings that dominate the skyline of Singapore. It is not just a hotel but also a casino, museum, convention center, shopping place, waterfront pomegranate and also consists of several restaurants. An unusual sort of a hotel comprises of 2561 beautiful hotel rooms that start at a tariff of minimum USD 350 a night.
8. Hotel Americano, New York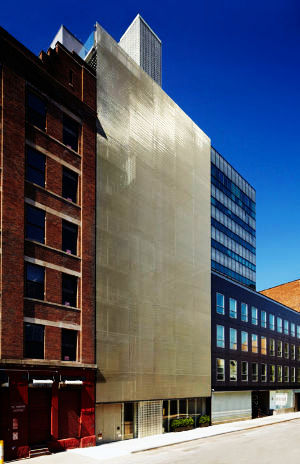 This looks more like a dominant metal sculpture more than a building. Its uniqueness lies in the floors that are connected by catwalks and covered with steel mesh.
9. Miura Hotel, Celadna, Czech Republic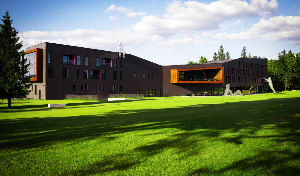 This massive 30 foot tall stainless steel structure is made with a unique combination of violet, glass, sheet metal and concrete that gives an interesting geometry.
10. Radisson Blu Stockholm Waterfront Hotel, Denmark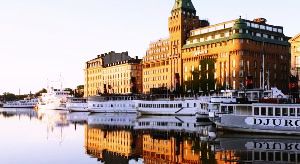 This is another interesting specimen of modern architecture and grand hotel designs. The exteriors are built with 13 miles of stainless steel semi-transparent rods that is the characteristic feature of this building. These rods give an awe-inspiring reflection of the surrounding skies and water. Photo Courtesy - Rueters